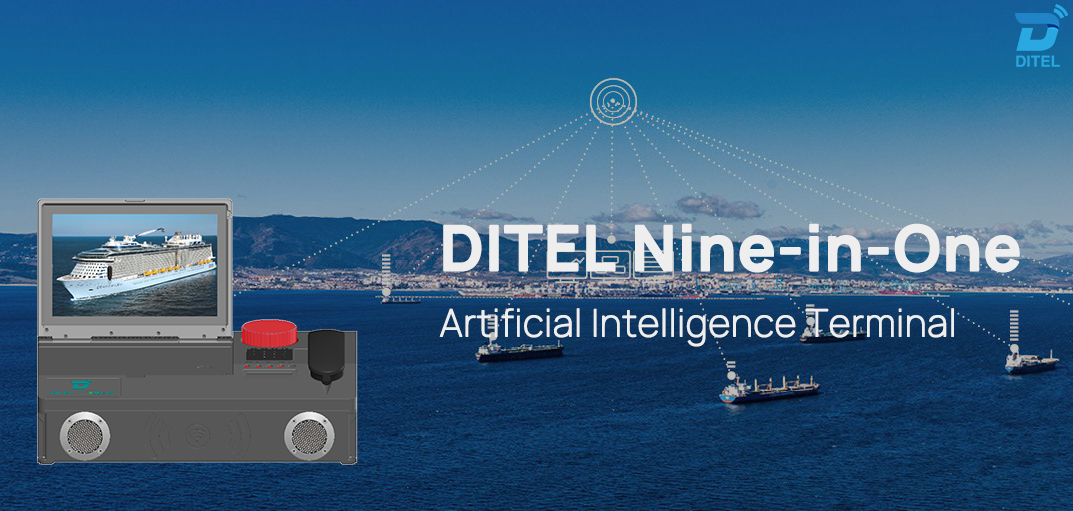 DITEL Nine-in-One Intelligent AI Terminal

DITEL has recently developed an innovative Nine-in-One Intelligent AI Terminal which integrates nine modules into one single device, including antenna control unit (ACU), multiple output power supply, POE Ethernet switch, sound and light alarm, touch display screen, SIP data call, intelligent AI detection, network video recorder (NVR) and 4G Internet access. With high module integration and good function adaptability, this integrated device provides a variety of functions required for ship intelligent services and remote management, which can effectively improve communication reliability and reduce equipment failure risks. According to the integrated modules, this intelligent terminal supports nine major functions.


1. Satellite Internet connectivity
One of the most important parts inside this intelligent terminal is its ACU module. The integrated ACU supports the control of outdoor VSAT on board. Our ACU can work with most modems, such as Hughes and iDirect modems. In addition to the hardware equipment, DITEL also provides airtime plans according to customer specific requirement. With this whole satellite communication solution, our sincere customers are able to have reliable accesses to the satellite network at sea.

2. Automatic 4G network switch
The consistency of Internet connectivity has become the top priority for most ship management cases. This terminal provides 4G network access when the vessel is around offshore, and it would automatically switch to satellite communication network according to connection performance. This automatic network switch function enables consistent network connection during the whole navigation.

SIP data call is another key function of this Intelligent terminal. This terminal is designed with a numeric dial pad and the user can make SIP data phone call directly from the terminal. In addition, with the network connectivity, the user could also make SIP data call through Apps on mobiles or PCs which makes great convenience for real-time communication on board.

4. One-button Emergency call
In addition to regular SIP data calling service, we also take emergency situation into consideration. This Nine-in-One Intelligent Terminal is designed with an emergency call button. As there is usually very limited time to send SOS message under an emergency situation, this one-button emergency call function could save lives. The sailors could set the emergency number to their first-aid team or any other related numbers according to their own requirement.

5. Video monitoring and recording
In order to ensure security of the vessel, this Intelligent terminal supports connecting with four surveillance cameras installed at different spots, including fore deck, rear deck, cockpit and cabins. The real-time monitoring video displays upon a 10.1 inches screen with 1920x1200 resolution over this terminal. Operation team could simply have a view of the video content upon this touch screen.

6. Remote video monitoring
With the support of our intelligent management system, the monitoring videos captured by the surveillance cameras on board can also be displayed on PCs for remote ship management team on land. The operation team could have a view of real-time monitoring videos as well as history records remotely for their operating purposes.

7. Intelligent AI detection
With integrated 3T AI computing power, this intelligent terminal can decode and analyze four channels of video content. According to the AI analysis, the terminal could intelligently identify ship operating conditions. This terminal supports various detecting functions, such as cab on-duty detection, identity recognition, ship-side member counting, and life jacket wearing detection.

According to the AI detecting results, the terminal would trigger the sound and light alarm. For example, when the system detects the unattended case in the cockpit, the terminal would make more than 100dB volume and light strobe to raise notable attention of captain and sailors on board to deal with the unusual case. The alarming mode can be customized according to customer's own preference.

9. Remote control and management system
*
SEND INQUIRY