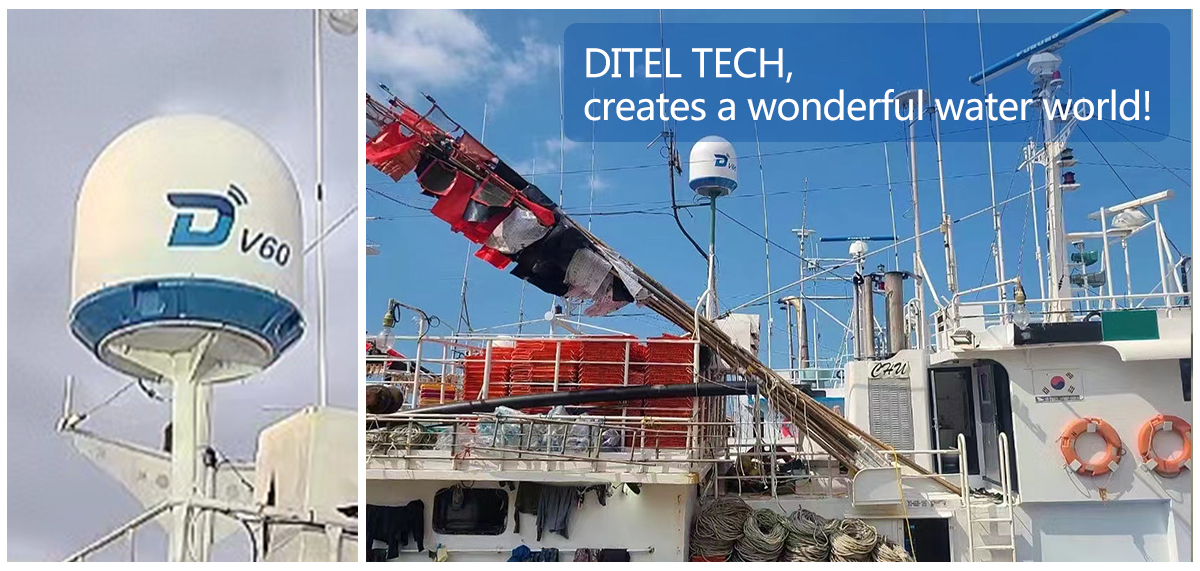 DITEL V60 63cm KU band 2-axis Maritime VSAT
DITEL V60 maritime VSAT antenna was installed successfully on a fishing boat in Korea. Featuring a compact size and lightweight design, not only does DITEL V60 cost less, but also it is easier to install. Besides, cover the full network with super high tracking efficiency to achieve the perfect balance between performance and price, which makes it popular among fishermen friends.

DITEL V60 is a 63cm KU band maritime VSAT antenna, which is ideal for smaller vessels with space constraints. With its 2-axis stabilized platform and 5 patent technology, a high-speed maritime broadband is provided. For example, web browsing, web-TV, social media and messaging services and so on can be achieved. And it is really convenient for crew on board to share the exciting moments with friends and families with high quality internet.

It is necessary to equip the fishing boats with excellent maritime satellite communication VSAT system to assure the safety of navigation and the acquisition of information in time at sea. DITEL has a fanatical pursuit of technology and is determined to become a world-class supplier of mobile satellite communication equipment for customers around the world with the most reliable products and the best service. In a word, future is worth expecting.
*
SEND INQUIRY