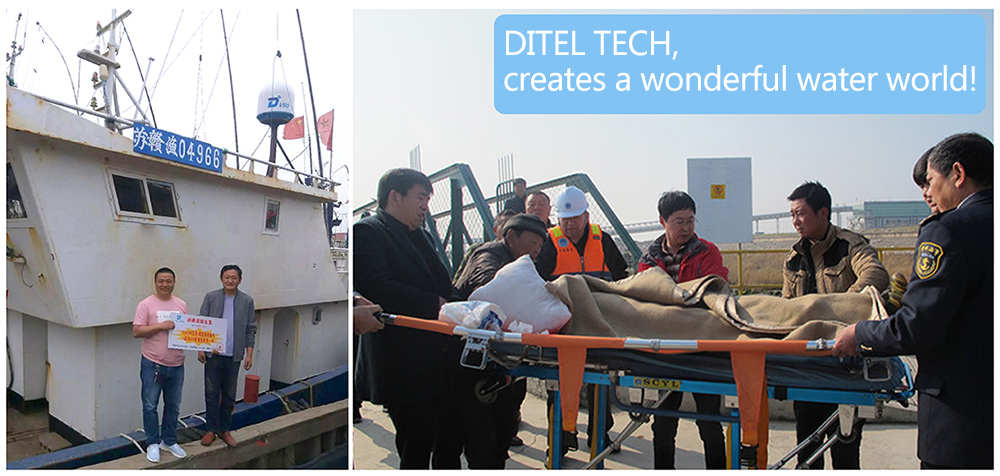 DITEL maritime
VSAT antenna
In the early morning of April 17,
"
Sugan 04966
"
fishing boat, equipped with

DITEL maritime satellite communication antenna

, received a rescue signal from the local Marine Search and Rescue Center: a fisherman's arm was broken and he was in a critical condition on the nearby fishing boat
"
Ganyu 14086
"
. Since
"
14086
"
fishing boat had no communication tools, and could not get in direct contact without communication signal, the Search and Rescue Center entrusted the
"
04966
"
fishing boat with

DITEL

complete communication system as the communication liaison ship to assist the rescue work. Thanks to the joint efforts of the local Maritime Bureau, the East China sea rescue bureau, 120 rescue and
"
Sugan 04966
"
fishing boat, the injured fishermen had been sent to local hospitals for proper treatment after nearly eight hours of overnight rescue.
Due to the installation of

DITEL satellite communication antenna

, the
"
04966
"
fishing boat acted as an communication liaison ship assisting in the search and rescue, greatly improving the timeliness and accuracy of the rescue in case of danger.
To commend the kind rescue assistance of
"
04966
"
fishing boat,

DITEL

Technology specially invited the local distributor Mr. Qin on behalf of our company to issue awards. DITEL said, it is the most important to keep maritime security, life is priceless. DITEL Technology encourages everyone to actively use our maritime satellite communication system to aid other vessels, and we are glad to issue awards to show the respect and encouragement.
About DITEL
DITEL

is one of the world's leading providers of satellite communications and smart systems for the maritime, industrial, and military sectors. Founded in 2009, DITEL is leading the way in driving innovation in the satellite communications market. Governments and global players choose DITEL's stabilized satellite antenna systems to deliver connectivity when it matters most.
DITEL has obtained the certification of CCS quality management system and ISO 9001:2015 quality management system certification as well as the value-added telecom business license issued by the ministry of industry and information technology of the People's Republic of China.
*
SEND INQUIRY