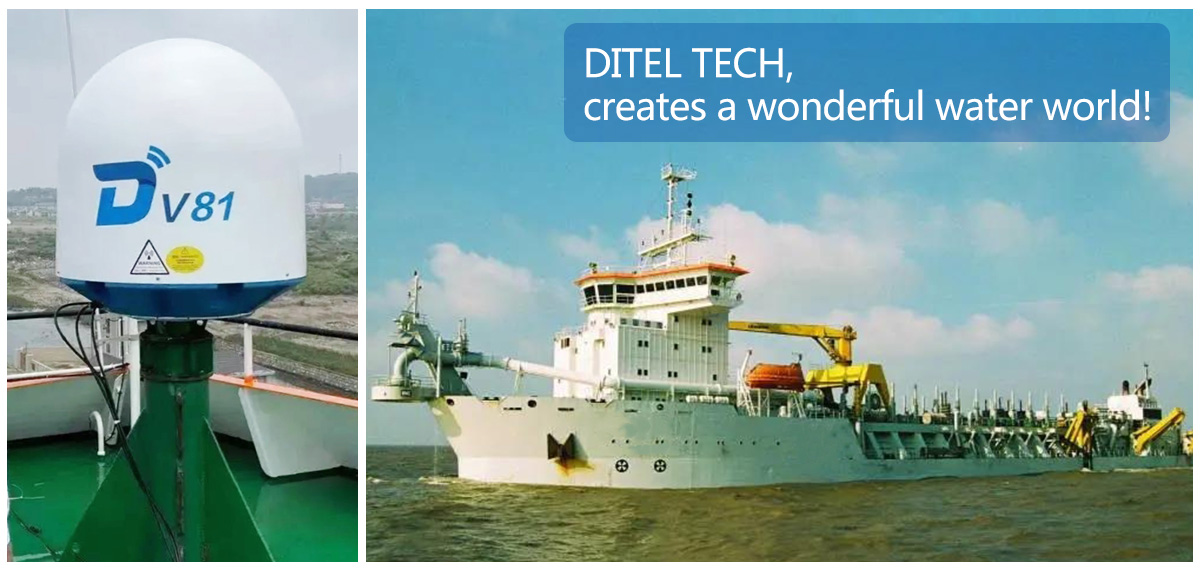 DITEL V81 80cm KU band 3-axis Maritime VSAT

DITEL V81 maritime VSAT was installed on a trailing suction hopper dredger, which is specially used for the Yangtze Estuary channel dredging. Thanks to the excellent signal tracking capability and stable broadband of DITEL V81, the broadband network is obviously speeded up, and the mobile phone signal covers the living areas such as bridge, engine room, conference room, crew's living quarters and so on with good effect.

DITEL V81 is a 80cm Ku-band maritime VSAT antenna. On the basis of its 3-axis stabilized platform and 5 patent technologies, DITEL V81 offers superior RF performance to ensure safe and efficient operations on board under all kinds of conditions. Equipped with DITEL maritime satellite VSAT system, the trailing suction hopper dredger is covered with full network access to acquire essential support, such as remote control by PC and mobile, video monitoring, broadband, video conference, VoIP and other network applications.

DITEL offers personalized solutions according to the specific needs of customers. The production needs of vessel and the production, study and living needs of front-line crews has taken into consideration. The installation of DITEL V81 and the update of shipborne mobile phone signals repeater provide higher speed Internet access to meet the vessel's network requirements of information management, audio and video transmission, email and web browsing. The signal quality of call and network, and the coverage of mobile phone signals in each cabin are improved. With the aim to meet the customers' needs of enjoying the quality sea life anytime and anywhere, DITEL spares no effort to keep moving.
*
SEND INQUIRY