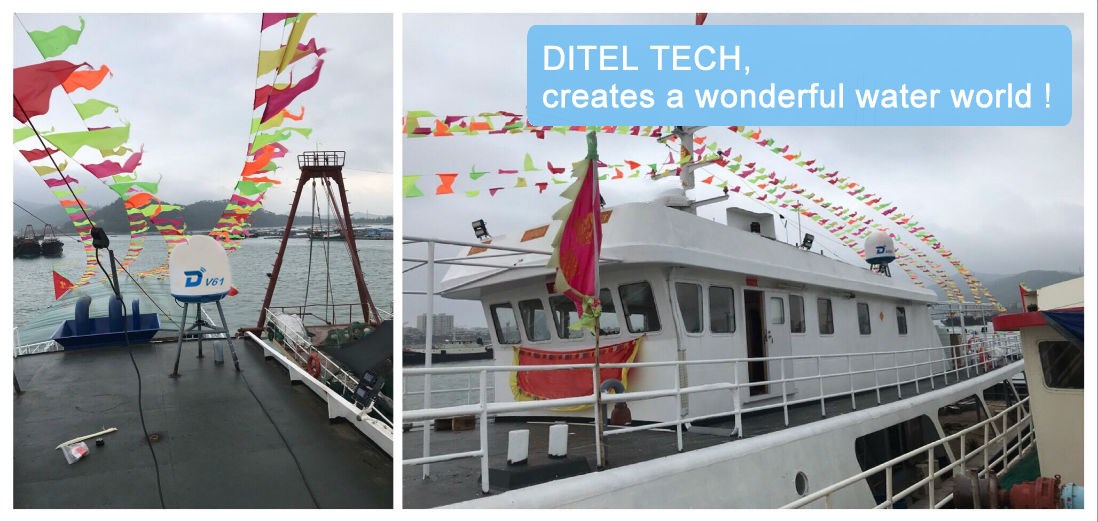 DITEL V61
63cm dish Ku band 3-axis maritime VSAT antenna
DITEL

V61

VSAT Antenna installs on fishing boat, providing stable and full network coverage for the whole vessel with super high tracking efficiency.
DITEL 63cm

VSAT antenna

--

V61

, with its compact size and lightweight design, is an ideal choice for smaller vessels with space constraints.

DITEL V61

offers quite superior tracking performance to users, thanks to which, people at sea get access to internet for fast data connectivity and voice simultaneously.
With the installation of

DITEL V61

, fishing is not a boring and inefficient work any more, fisherman is easy to get the fishing information on time and to have fast connectivity between the vessel and shore regardless of location or conditions with internet access. At their spare time, fisherman could simply relax themselves through internet, sharing the exciting moment with friends and families with high quality internet or smooth voice communication.
About DITEL
DITEL

is one of the world's leading providers of satellite communications and smart systems for the maritime, industrial, and military sectors. Founded in 2009, DITEL is leading the way in driving innovation in the satellite communications market. Governments and global players choose DITEL's stabilized satellite antenna systems to deliver connectivity when it matters most.
DITEL has obtained the certification of CCS quality management system and ISO 9001:2015 quality management system certification as well as the value-added telecom business license issued by the ministry of industry and information technology of the People's Republic of China.
*
SEND INQUIRY