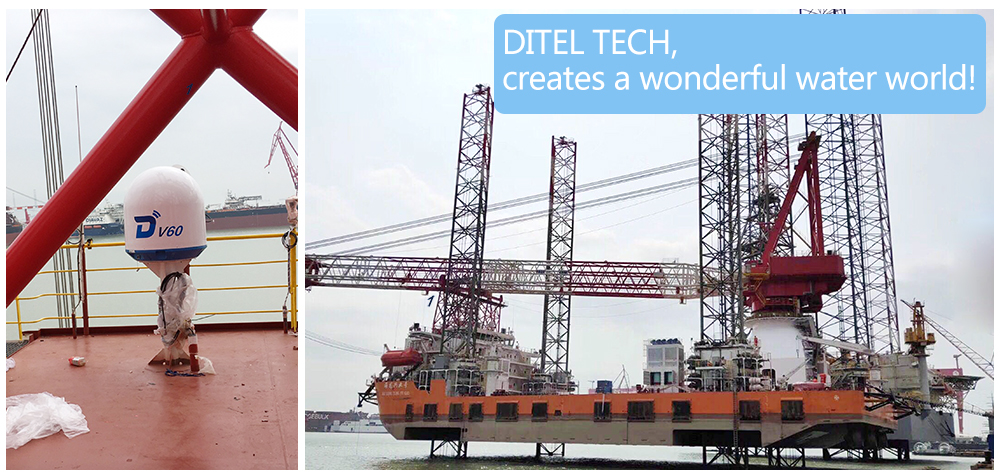 DITEL V60
63cm KU Band 3-axis maritime
VSAT antenna
DITEL V60

VSAT Antenna installed on
"
Hailong Xingye
"
, the first 1200 ton truss pile leg self-lifting wind power installation platform in the world, which provides stable and full network coverage for the whole vessel, bringing great convenience to meet both work and life requirements.
DITEL V60

is a 63cm Ku-band maritime

VSAT antenna

. Featuring a compact size and lightweight design,

DITEL V60

is an ideal choice for smaller vessels with space constraints. With its 2-axis stabilized platform and 5 patent technology, the

V60

provides stable and full network coverage for the whole vessel and offering superior tracking performance to users.
The platform adopts truss type pile leg gear rack lifting design for the first time, equipped with 96 sets of frequency conversion electric gear lifting devices, realizing the fast lifting speed of 0.46 m/min in maximum. Meanwhile, its variable load is up to 3600 tons. And with the support of 91.5 meters high truss pile leg, the water depth can be up to 60 meters. In addition, the 1200 ton variable-frequency pile crane is also the largest pile crane in China that has been delivered.
DITEL

is honored to make a contribution to the container transport industry!
About DITEL
DITEL

is one of the world's leading providers of satellite communications and smart systems for the maritime, industrial, and military sectors. Founded in 2009, DITEL is leading the way in driving innovation in the satellite communications market. Governments and global players choose DITEL's stabilized satellite antenna systems to deliver connectivity when it matters most.
DITEL has obtained the certification of CCS quality management system and ISO 9001:2015 quality management system certification as well as the value-added telecom business license issued by the ministry of industry and information technology of the People's Republic of China.

By Betty Zhang
*
SEND INQUIRY