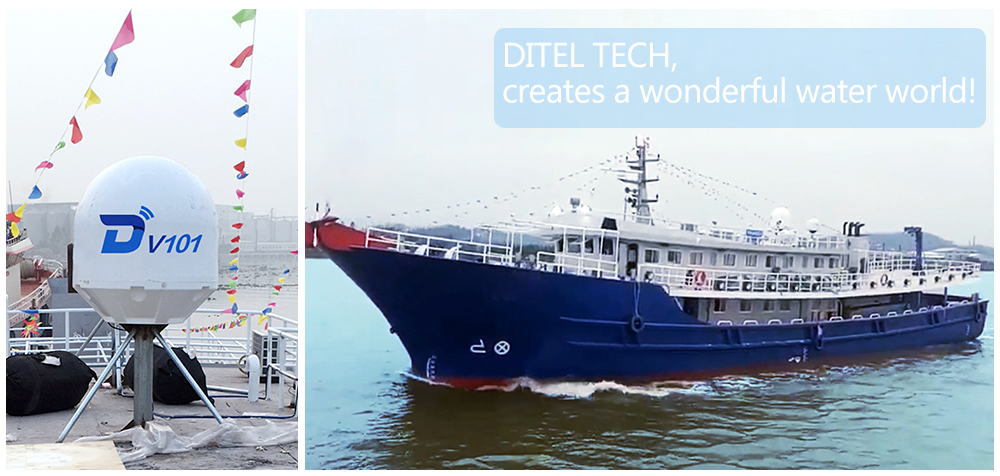 DITEL V101 100cm dish Ku band 3-axis maritime satellite VSAT antenna
DITEL V101

maritime satellite

VSAT antenna

installed on large fishing vessel, the stable and full network coverage for the whole vessel provided by DITEL V101 brings great convenience to the fisherman, especially in the fishing season nowadays.
DITEL 100cm KU band marine satellite VSAT antenna -- V101, is an ideal system for large vessel or platform such as global commercial vessels, offshore vessels, oil and gas platform etc. With its 3-axis stabilized platform and 5 patent technology, the V101 offers superior high tracking performance, supporting video monitor, broadband access, web television, remote video conference and VoIP services. By selecting different satellite, V101 can offer service to deep ocean vessels which have high request on broadband.
Seafood is in popular boom by its healthy ingredients, including proteins, fats, various minerals and vitamins. Therefore, fishing industry is a hot industry because the large demands for seafood. It is necessary to equipped with marine satellite VSAT antenna to bring the communication access. With the installation of DITEL marine satellite VSAT antenna, fishing work is efficient and enjoyable. Fisherman is easy to get the fishing information on time and to have fast connectivity between the vessel and shore regardless of location or conditions with internet access. At their spare time, fisherman could simply relax themselves through internet, sharing the exciting moment with friends and families with high quality internet or smooth voice communication.
*
SEND INQUIRY